Piano Roll Up Portable Electronic Keyboard
$120.14
$147.97
SAVE $27.83
Price Includes GST/VAT.
4 Great reasons to buy from us:
GRAB YOUR DISCOUNTED Piano Roll Up Portable Electronic Keyboard !
If you're looking for a small keyboard that you can carry around with you anytime and anywhere, then you should get this Piano Roll Up Portable Electronic Keyboard. The main advantage of this kind of keyboard is its small size and portability. A roll-up piano keyboard can be a great tool for writing simple sheet music when you're away from an actual piano or keyboard.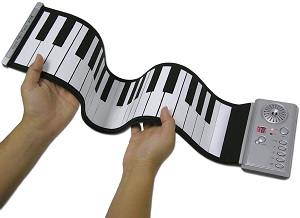 Features:
49 key soft keyboard (Standard piano key 4 times + 1 key) 
On its surface, there are rhythm, drum, sound effects, and chord learning function keys to facilitate the user to adjust the mode. 
There are 8 drum modes with 16 levels of volume control, 32 levels of rhythm control in each mode and a power saving sleep mode. 
16 sound functions. 
10 point rhythms selection. 
Built in 6 demo songs for your appreciation and learning. 
Recording and playback functions. 
Built-in speaker, fully adjustable volume and lighting system. 
With a headphone jack (3.5 mm) and a power connector. 
Easy to roll up for storage and carrying, you can play it anytime, anywhere. 
Suitable for beginners or more advanced students.
Package Includes:
1 x Piano Roll Up Portable Electronic Keyboard